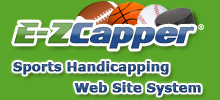 7 Version for all the budgets



Client Testimonials

"EZCapper has taken my service to the next level, my old web site was just not cutting it anymore so E-ZCapper made me a cutting- edge site for an affordable price"
(InvestaPick.com) - Bob W.

"The EZCapper web site system is the easiest web platform I have ever used, I can easily connect with my customers daily and get my picks out quickly & securely"
(Picks2Play.com) - Carmen G.

"EZCapper have not only promptly built my website but with the marketing tools provided we are registering new clients on a daily basis"
(WagerSim.com) - Joe M.

"You're the best, Thanks!"
(outlawsportsadvisors.net) - Jesse
Standard Payment and Cancellation Policy

Standard Billing (May 25, 2010 onwards)
All accounts as of May 25th, 2010 are billed by Paypal on a subscription basis. Clients have the option of monthly or annual subscription billing. Subscriptions can be cancelled anytime from the Paypal control panel. Should the subscription be cancelled by the client or if funds are unavailable, EZCapper we will send a payment reminder email approximately 2 days past the due date and a second reminder 7 days after the due date. Administrator access to the website will be revoked 7 days after the due date. EZCapper will make best efforts to contact the client by email or phone (if available). If the due payment is not received within 14 days from the due date, the account will be deemed delinquent and deactivated.

Legacy Billing (customers prior to May 25th, 2010)

Legacy customers either opted into a monthly or annual payment plan. Paypal invoices are sent approximately 1 week prior to the due date for each period. Reminder notifications are sent 2 days past due. A second reminder notification is sent 5 days past due and the administrator access to update the site will be revoked. If your account is not paid within a further 7 days your account will be deemed delinquent and de-activated. Legacy customers will be billed at the current rate if you opt for the legacy monthly Paypal invoicing and billing process.

Account Reactivation
To reactivate a delinquent account, payment will need to be paid in advance for the year.

Dormant Accounts
If a delinquent account is not reactivated within 60 days the website (domain, content copyright and data) shall be deemed as dormant. Dormant accounts are claimed by EZCapper and will be offered for resale or terminated.